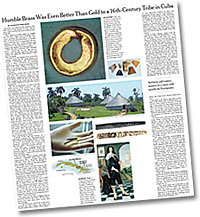 Sealed Under Turkish Mud, a Well-Preserved Byzantine Chapel
(New York Times, 01/08/2013)
The excellent condition of a newly discovered 13th-century chapel has stirred hopes among archaeologists that an entire city may be largely intact underground. [HTML]
Ruins of Forgotten Byzantine Port Yield Some Answers, Yet Mysteries Remain [with slideshow]
(Scientific American, 01/02/2013)
After a drought revealed the seawall of a Byzantine Empire harbor town near Istanbul, archeologists excavated what was a thriving ancient center. But how does it fit into the city's 1,600-year history? [SLIDESHOW]
Chinese terra cotta warriors had real, and very carefully made, weapons
(Washington Post, 11/26/2012)
The 7,000 soldiers buried with Qin Shi Huang in 210 B.C. were made of clay but carried real weapons capable of spilling blood. How were they made so skillfully, so uniformly and so quickly? Scientists now have a likely answer. [PDF part 1] [PDF part 2] [HTML]
Escape from the Jersey Shore
(OnEarth, 11/22/2012)
My parents ignored the dire warnings about Hurricane Sandy and didn't evacuate. By the time they called for rescue, it was too late.[HTML]
From Crocs to Cowboys, Saving Florida's Wild Life [with photo gallery]
(OnEarth, 09/05/2012)
A "natural freeway" is bringing environmentalists and ranchers together on a journey to protect biodiversity, freshwater, and life on the range. [PHOTO GALLERY]
After Being Stricken by Drought, Istanbul Yields Ancient Treasure
(New York Times, 01/23/2012)
On a long-farmed peninsula jutting into a lake west of Istanbul, archaeologists have made an extraordinary find: Bathonea, a substantial harbor town dating from the second century B.C.[HTML]
Old Weather Data Aids Climate Science - One Ship at a Time
(OnEarth, 06/07/2011)
By trawling through World War I-era naval logs for forgotten storms, citizen scientists help make global climate models more precise.[HTML]
Borneo Says No to Dirty Energy
(Time.com, 02/22/2011)
Coal is expelled from paradise as the government of Sabah kills a plan to build a controversial coal-fired plant in tourism mecca Malaysian Borneo. [HTML]
Should You Eat Like a Caveman?
(Time.com, 01/25/2011)
Followers of the Paleo diet say that we can survive today's unhealthy world by returning to a fresh food diet and exercising in short bursts. Does paleoanthropology back them up? [HTML]
Malaysia: A Coal Plant in Paradise
(Time.com, 11/27/2010)
In a Southern Pacific garden spot are all the world's eco-tensions writ small. [HTML]
Seeking Art in Science
(Time.com, 06/09/2010)
Each year an artistic competition calls on scientists at Princeton University to capture moments of beauty in their day-to-day research. [HTML]
Neanderthal DNA Lives On in Modern Humans*
(Time.com, 05/06/2010)
A decade after scientists cracked the human genetic code, they've done the same for the Neanderthal - and it turns out we are a little them. [PDF] [HTML]
*One of the Top 10 Time.com Stories of 2010
How to Classify a Million Galaxies in Three Weeks
(Time.com, 03/28/2010)
Do you have an Internet connection, some free time and a penchant for staring off into space? Then Galaxy Zoo needs you. The wildly successful "citizen science" project is providing astronomers with real discoveries - and science with a new model for handling large data sets. [PDF] [HTML] [COMMENTARY]
The Hobbit: Out of Africa
(Time.com, 04/21/2009)
Recent analysis of the skull of the 17,000-year-old "hobbit" discovered in Indonesia in 2004 shows that it bears an uncanny resemblance to those of African hominids millions of years older, suggesting some early hominids may have left Africa much earlier than had been thought. [PDF] [HTML]
Growing Taste for Reef Fish Sends Their Numbers Sinking
(New York Times, 01/20/2009)
The insatiable appetite for reef fish across Southeast Asia is threatening populations in the Coral Triangle, one of the world's richest marine reserves. [PDF] [HTML]
Scientist at Work: Rampa Rattanarithikul
(New York Times, 07/22/2008)
Thailand's lone mosquito taxonomist has spent 50 years studying the pest, in the process creating a body of work that is used to control the spread of malaria and dengue fever in Southeast Asia. [PDF] [HTML]
A Royal Ruin in the Heart of Hanoi
(New York Times, 10/16/2007)
For the last five years, archaeologists have been unearthing the remarkable remnants of Thang Long, Vietnam's 1,000-year-old imperial capital. [PDF] [HTML]
*NEW! Listen to the
New York Times
interview with Jennifer about Thang Long.
[MP3]
Humble Brass Was Even Better Than Gold to a 16th-Century Tribe in Cuba
(New York Times, 1/16/2007)
The 16th-century Taino Indians of Cuba adored its sweet smell, its reddish hue, its exotic origins and its dazzling iridescence. What was this treasured stuff? Humble brass lacetags from Spanish shoes. [PDF] [HTML]
The Alchemist's Lab
(Archaeology Magazine, 11/1/2004)
Despite efforts to turn lead into gold, your average sixteenth-century European alchemist was probably more scientist than magician. [PDF]
Integrating the Frontier
(Archaeology Magazine, 9/1/2005)
The first town in America founded by an African American resurfaces in Illinois - and provokes controversy among the town's descendents. [PDF]
Neolithic France
(Archaeology Magazine, 5/1/2005)
In a tomb undisturbed for 6,000 years, archaeologists in western France encounter an unexpected world. [PDF]
City by the Sea
(Archaeology Magazine, 1/1/2006)
Early urban planning on Mexico's Pacific coast: A planned ceremonial center in Mesoamerica with pyramids may be the oldest one found so far. [PDF]
Financing Energy Efficiency in the Keystone State
(State & Local Energy Report, 08/04/2010)
Pennsylvania is pioneering a new approach: energy-efficiency financing as an investment - one with a respectable return, no less, and one that has the potential to be bundled and sold on a secondary market. [HTML]
Solar in Alaska
(State & Local Energy Report, 08/04/2010)
Why solar power in a place better known for being dark for months on end? Because as part of a hybrid system with diesel or wind power, solar may help cut the high cost of powering some 200 rural Alaskan villages that must fly in the diesel they use to power their homes. [HTML]
California Defends Climate Law, Remains National Bastion of Clean Energy Economy
(Reuters via SolveClimate, 11/03/2010)
61 percent of voters say no to referendum that would have suspended the state's landmark climate legislation. [HTML]
Ontario's Green Energy Push Draws Fire From Japan, U.S. and E.U.
(Reuters via SolveClimate, 10/12/2010)
In a WTO complaint, leading cleantech countries accuse the province of violating international trade agreements [HTML]
"Fraser's Penguins" Documents Stark Climate Change in the Antarctic
(Reuters via SolveClimate, 11/10/2010)
In a new book, a veteran journalist spends five months with a researcher studying the effects of a melting world on ice-dependent penguins. [HTML]
Chimps Agree: A Bird in Hand Is Worth Two in the Bush
(Discover Magazine, 5/15/2008)
When it comes to trade, chimps are far from venture capitalists. Our closest relatives almost always prefer a sure bet, according to a recent study. The finding gives us precious insight into how trade, an essential cooperative behavior, works for humans. [HTML]
LA Governor Signs Controversial Science Education Act
(School Library Journal, 07/02/2008)
More than two decades after the Supreme Court shot down a Louisiana law that mandated equal time in the science classroom for biblical creationism and the scientific theory of evolution, the state's governor Bobby Jindal has signed into law an act that allows teachers to offer "supplemental textbooks and other instructional materials" to state-mandated science textbooks.[HTML]
Only Ewes
(Archaeology Magazine, 1/1/2008)
X-ray fluorescence analysis of paint used in suspiciously abstract rock art panels found in Wyoming reveals that ewes with painted rumps were the, ahem, artists. [HTML]
Disrobing Hadrian
(Archaeology Magazine, 9/1/2008)
While preparing a famous statue of Hadrian for a new exhibition about the Roman emperor, restorers at the British Museum discovered that their Victorian-era precessors had taken a bit of creative license with the man remembered by history as "little Graeculus." [HTML]
Pluto Gets the Heave-Ho
(School Library Journal, 10/1/2006)
The dwarf planet's shrinking status is no challenge for librarians, who keep up with the always deepening pool of human knowledge as a matter of course. [HTML]
4 Hours in Istanbul
(Business Traveler, 09/01/2008)
Jennifer Pinkowski explores the remarkable city that is a fascinating collision of Europe and Asia. [HTML]
4 Hours in Hanoi
(Business Traveler, 10/01/2007)
Jennifer Pinkowski bounces on motorbike taxis through Vietnamese history and finds tailored silk, traditional medicines, and more. [PDF] [HTML]
Warsaw Remembers
(Archaeology Magazine, 05/01/2008)
Politically unfeasible during the long decades of Communist control, the planned reconstruction of Warsaw's Saxon Palace is revealing a history - and a national identity - thought lost to the ravages of World War II. [PDF]
The TravelJen Blog
(Jenpinkowski.com, 2007)
Essays and photographs documenting the adventures of a female journalist traveling alone through 10 countries in Asia and Europe over four months. From the hutongs of Beijing to foss of Skogar, this is one tale of derring-do. Stories include Edward Norton is My International Stalker, a hike through China's Tiger Leaping Gorge; Lifting the Veil at a political rally in Istanbul; Kashmiri Bondage, about dubious dealings in the war-ravaged zone; taking a dip in the Arabian Sea when Phantom Husband Goes for a Swim; and Getting Lei'd on a train through Bulgaria, Romania, and Hungary. Visit the photo gallery for travel images.
Egypt's Ageless Goddess
(Archaeology Magazine, 9/1/2006)
In a section of Karnak closed to tourists, a modern pilgrim visits the little-known Temple of Mut, the headquarters of a powerful goddess attended to by pharaohs and priests for 1,500 years. [PDF]
The Disappeareds of Brooklyn
(Gotham Gazette, 12/3/2001)
In the weeks following 9/11, hundreds of undocumented Pakistani immigrants in NYC were swept off the streets or arrested in predawn raids by the FBI, and then quietly 'disappeared' into federal detention centers. [HTML]
Young and Homeless
(Gotham Gazette, 6/1/2001)
Recent estimates put the number of homeless youth in New York at around 15,000. In a bitterly ironic twist, one of the few organizations that serves this population is itself about to become homeless. [HTML]
Redeeming Archaeology
(Archaeology Magazine, 5/1/2006)
The Smithsonian's Dorothy Lippert, an archaeologist and member of the Choctaw Nation, talks about repatriating human remains, redeeming archaeology, and seeing herself in the collection. [HTML]
String Theorist
(Archaeology Magazine, 11/1/2005)
Harvard University anthropologist Gary Urton discusses his recent analysis of khipu, the enigmatic record-keeping system of knotted strings used by the Inca Empire - plus mystified Spanish colonials, teaching students to weave khipus, and bringing your tax records to the afterlife. [HTML]
Rock the Oasis
(Archaeology.org, 3/13/2006)
Egyptologist Salima Ikram discusses ancient rock art discovered this field season in the forbidding Western Desert. [HTML]
Bone Reader
(Archaeology Magazine, 9/1/2005)
Bioarchaeology pioneer Jane Buikstra discusses the hidden truths in our skeletons. [HTML]
Return of Gilgamesh
(Archaeology Magazine, 3/1/2005)
Acclaimed translator Stephen Mitchell talks about his new literary rendition of the epic of Gilgamesh, the tale's moral sophistication, 16-foot-tall winged bulls, and how it compares to Beowulf. [HTML]
First Laureate of Children's Poetry Appointed
(School Library Journal, 10/41/2006)
Jack Prelutsky has long been considered the preeminent - and funniest - poet for the underage set. Now he's the nation's first children's poet laureate. [HTML]
ALA to Libraries: Keep Alms for Jihad, Pulped in UK
(Library Journal, 08/23/2007)
Facing a potential UK libel suit it wouldn't win, Cambridge University Press pulps Alms for Jihad and asks libraries to yank it from their shelves. Don't do it, says the American Library Association.[HTML]
Nixon Library, with Newly Released Documents, Finally Enters Federal System
(Library Journal, 07/13/2007)
After years of criticism from historians for its tenuous relationship to legitimate scholarship, the Richard Nixon Library and Birthplace has come under the oversight of the National Archives and Records Administration (NARA) and been renamed the Richard Nixon Presidential Library and Museum. [HTML]
VA Counties Target Illegal Immigrants; Libraries May be Put in a Bind
(Library Journal, 07/31/2007)
Librarians in two northern Virginia counties may soon be put in the awkward position of having to check immigration status along with library cards.[HTML]
Banned Book Week Ends, Banning Books Continues
(School Library Journal, 10/20/2006)
Just a few days after Banned Books Week ended on September 30, two well-respected graphic novels were yanked from a Missouri public library for being "pornographic." [HTML]
Did Knoxville Library Move From African American Area Violate Civil Rights Act?
(Library Journal, 06/29/2007)
Tennessee withholds $55,000 in federal money from the Knox County Public Library System, TN, after a state agency says the county violated the Civil Rights Act of 1964.[HTML]
Kansas Asks: What's the Matter with NCLB?
(School Library Journal)
In recent years, the Kansas State Board of Education has made national headlines when it tried to bring creationism into the science classroom. Now it's making news for another reason: it's considering abandoning No Child Left Behind (NCLB) - and the federal dollars associated with it - entirely. [HTML]
The Egyptologist Who Would Be Pharaoh
(Archaeology.org, 2/3/2005)
Questions about the nature of existence and identity lie at the heart of Arthur Phillips' The Egyptologist, a beautifully written novel that is mournful, slapstick, lewd, sympathetic, and bitterly funny. [HTML]
One Long, Hot Global Summer
(Archaeology Magazine, 5/1/2004)
For the earth, it's the hot season--and it's only getting hotter, writes Brian Fagan in The Long Summer: How Climate Changed Civilization, an expansive look at the development of human society through the lens of global climate change. [HTML]
Wild West Saloon Life
(Archaeology Magazine, 11/1/2005)
Historical archaeologist Kelly Dixon's Boomtown Saloons is a compelling look at bars in one of the biggest mining towns in the nineteenth-century West. [HTML]
Columbus's Last Voyage
(Archaeology Magazine, 5/1/2006)
In their swiftly paced adventure biography The Voyage of the Vizcaina, two Der Spiegel journalists seek the the identity of a wreck that could be one of the ships from Columbus's last disastrous mission. [HTML]
There and Back Again
(Archaeology Magazine, 1/1/2008)
Nancy Marie Brown's The Far Traveler: Voyages of a Viking Woman explores the rich world of Viking archaeology through the life of a heroine from the Icelandic sagas. [HTML]
Archaeology's Interior World
(Archaeology Magazine, 3/1/2006)
Archaeology functions as both a real presence and as a metaphor in Russell Martin's The Sorrow of Archaeology. [HTML]
Take Your Hominids With a Grain of Salt
(Archaeology.org, 3/17/2005)
The National Geographic Channel's "Search for the Ultimate Survivor" explores fascinating discoveries about early human history but is ultimately a frustrating mix of sensational science and sensationalistic pandering. [HTML]
Paleoanthropology's Scholars
(Archaeology.org, 8/3/2005)
The History Channel documentary "Ape to Man" takes a smart look at the people behind the science. [HTML]
Battlefield U.K.
(Archaeology Magazine, 7/1/2004)
"Two Men in a Trench" has returned for a second season of six hour-long episodes of digging and dress-up on British battlefields, many of which have never been previously studied by archaeologists. [HTML]
To Live and Love in Beautiful Alabama
(The Morning News.org, 5/15/2006)
Erik Estrada wants us to buy land, Ron Popeil wants us to shoot our salad. Promising a better life - free of ills financial and otherwise - when infomercials air on a Sunday morning, the effect can be downright spiritual. [HTML]
Tycoon
(New York Review of Magazines, 6/1/2001)
Finally, a magazine for the filthy rich [HTML]
What Would Jesus Do (With Government Funding)?
(New York Review of Magazines, 6/1/2001)
Back in January, President Bush announced that he was establishing the White House office of Faith-Based and Community Initiatives. Is God - or something less benign - in the details? Religion magazines across the sectarian spectrum weigh in. [HTML]