About Jen Pinkowski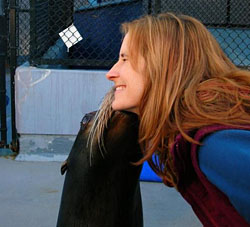 Based in New York City, Jennifer Pinkowski is a versatile journalist who has reported from a dozen countries on the work scientists are doing to explore, explain and expand our world. She has covered topics as diverse as the sequencing of the Neanderthal genome; the secrets of the alchemist's lab; the defeat of a coal-fired power plant in a South Pacific paradise; the political machinations of a fierce female pharaoh and Thailand's lone mosquito taxonomist for Time.com, The New York Times and Archaeology, among many others. You can find clips in Selected Articles.
Jen is also an experienced reporter on books, education and travel and always eager to hit the road. She devoted 2007 to writing and photographing for various publications as she traveled as an independent journalist through China, Southeast Asia, India, the UAE, Turkey, and Eastern Europe. You can read, see and hear it at the TravelJen blog. Working on more intimate terrain, in 2009 Jen documented the science, adventure and emotion of growing a human being at Bun in the Blog.
As a versatile communications consultant and editor, she's sharpened her quill for top-flight nonprofit organizations, Fortune 100 companies and national consumer magazines.
She received her BA in creative writing and photography from Sarah Lawrence College in Bronxville, NY, and her MS in magazine journalism from the Columbia University Graduate School of Journalism in New York City, where she won the 2001 Daniel Cohen Memorial Award for excellence in photojournalism.
When she's not wandering the world with her laptop, camera, sound recorder and lip balm, Jen lives in Brooklyn with her husband and son.