Snipers from the Israeli Defense Force like to print up their own T-shirts to commemorate the end of training or of field duty, according to this article from the Israeli newspaper Haaretz. And the shirts feature images like this: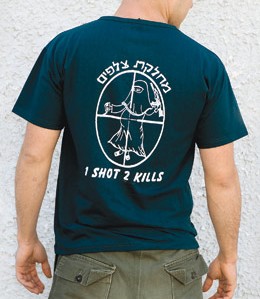 image courtesy of Haaretz
In case that's not clear: the belly of a pregnant woman is in the crosshairs of a target. She's armed, but I'm not so sure that makes a difference when it comes to the many IDF T-shirts that celebrate killing Palestinian women and children.
According to the article:
Dead babies, mothers weeping on their children's graves, a gun aimed at a child and bombed-out mosques – these are a few examples of the images Israel Defense Forces soldiers design these days to print on shirts they order to mark the end of training, or of field duty.
The slogans accompanying the drawings are not exactly anemic either: A T-shirt for infantry snipers bears the inscription "Better use Durex," next to a picture of a dead Palestinian baby, with his weeping mother and a teddy bear beside him. A sharpshooter's T-shirt from the Givati Brigade's Shaked battalion shows a pregnant Palestinian woman with a bull's-eye superimposed on her belly, with the slogan, in English, "1 shot, 2 kills." A "graduation" shirt for those who have completed another snipers course depicts a Palestinian baby, who grows into a combative boy and then an armed adult, with the inscription, "No matter how it begins, we'll put an end to it."
There are also plenty of shirts with blatant sexual messages. For example, the Lavi battalion produced a shirt featuring a drawing of a soldier next to a young woman with bruises, and the slogan, "Bet you got raped!"
Other examples, as recalled by a former soldier who once drew such designs:

'There's all sorts of black humor stuff, mainly from snipers, such as, "Don't bother running because you'll die tired" – with a drawing of a Palestinian boy, not a terrorist. There's a Golani or Givati shirt of a soldier raping a girl, and underneath it says, "No virgins, no terror attacks."

Ha ha, isn't that just so clever? Those harmless cads, they don't mean anything by it: "Psychologically speaking, this is one of the ways in which soldiers project their anger, frustration and violence," says a sociologist. And don't you go overanalyzing it, either: "I don't see what you're getting at," one sharpshooter tells the Haaretz reporter. "I don't like the way you're going with this. Don't take this somewhere you're not supposed to, as though we hate Arabs."
What is perhaps even more disturbing about this targeting (whether psychological or actual) of women—especially pregnant women—and children is that it has a deep, rich history across the world, in pretty much every culture, for millennia, and continues to this day. That is, it's nothing new.
These snipers—who, it must be said, are a small fraction of the IDF—may be twisted, potentially psychotic assholes, but they aren't creative. To use just two relatively recent examples: in World War II, the bellies of pregnant women in Nanking, China, were bayoneted by Japanese soldiers. Today in the ironically named Democratic Republic of Congo, women and girls—even babies as young as 10 months old—are gang-raped by soldiers from various factions. If they survive, often to live with severe physical problems, they are frequently ostracized by their communities for it.
But this type of violence isn't exclusively a wartime phenomenon. Right here in the U.S., according to at least three studies, the most recent published in JAMA in 2001, murder was the leading cause of death for pregnant women in the U.S. in the 1980s and 1990s. That same year, a study by the CDC put homicide in second place, behind car accidents.
Wow, progress!

So before you think this behavior is something specific to Israeli forces or the Israeli-Palestinian conflict, think again. It's just good old brutal humanity, doing what it does best: murdering itself.