I just returned to Lijiang, in the northwest of China's Yunnan province, after a 50-kilometer, three-day solo hike through—actually, mostly above—the deepest canyon in the world: Tiger Leaping Gorge.
This is one of the many mountainsides from which you can plummet to your demise at any moment. Who knew, but defying the icy scythe of death makes you grin.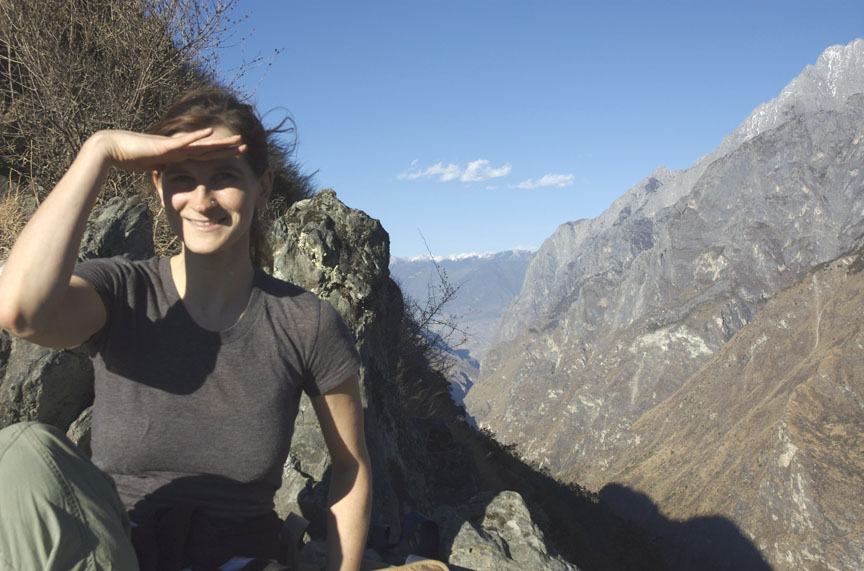 The hike was, in a word, amazing. I ruminated over lots of Big Thoughts, was wowed by lots of Big Views, and was quieted by lots of Big Stars.
I'm still processing it. So in the meantime, here's some fabulous filler: the all-animal edition of one-offs. In honor of the legendary tiger whose nimble jump gave the gorge its name, revel in the nonhuman cuteness. Feel free to anthropomorphize. I did.
Plus, at the end there's a new feature—an audio file!
***
Near the Flower and Bird Market in Kunming, a major draw in Yunnan's capital city, I came across a much less official animal shop, which I'm calling Puppy and Kitten Alley.
A collie mix, I think.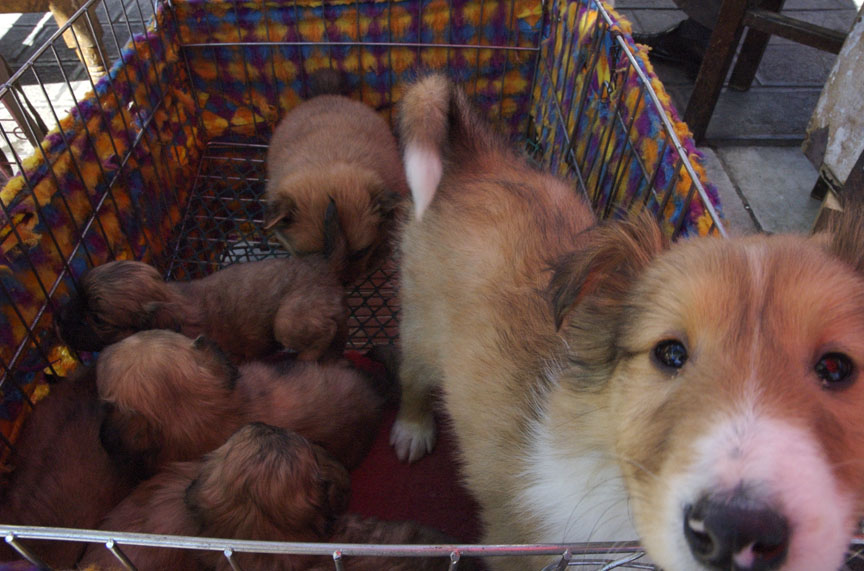 It took me an hour to walk 30 feet. I had to pet every creature, sticking my fingers through the cages to let little wet mouths nibble on my fingertips.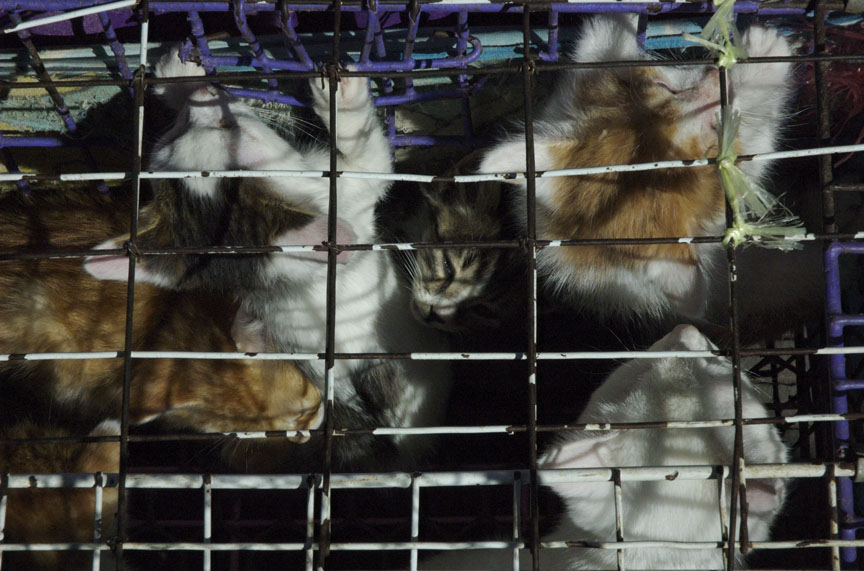 Not all of the animals were in cages. They seemed to be casually but not callously treated. But the kittens were too young to be separated from mom, and cried piteously for her. Or me. Or anyone to take them out of their mean little prisons.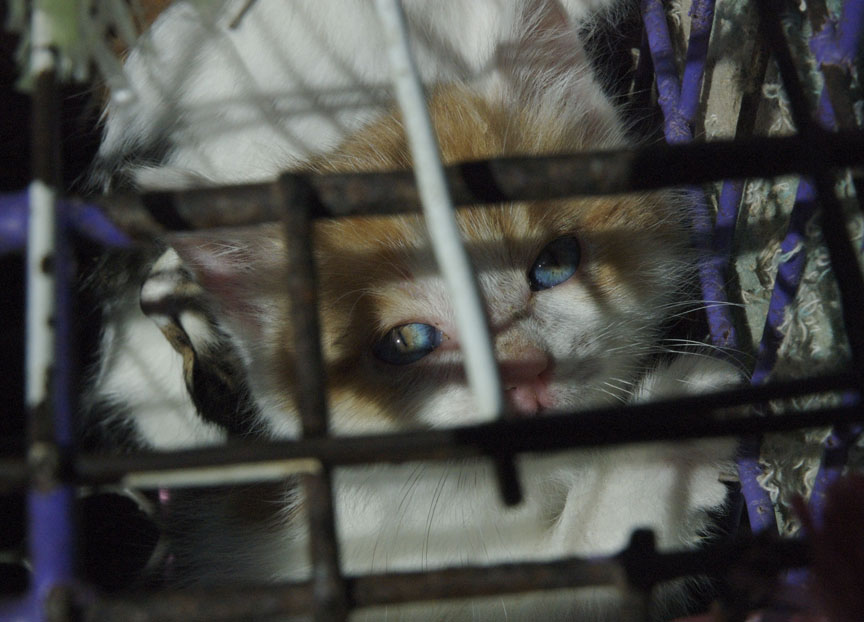 With nowhere to go and nothing to do, some slept off the long wait for a new home.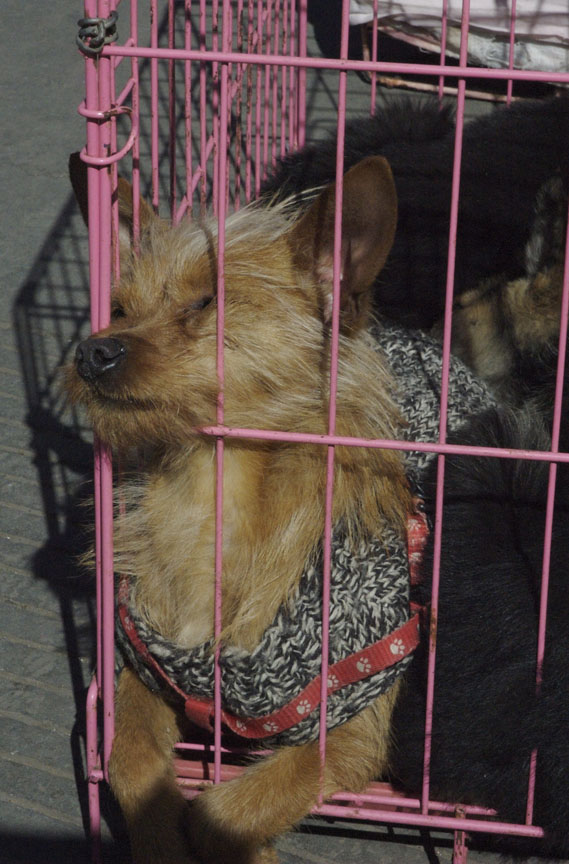 Much freer was this duck in Kunming's CuiHu, or Green Lake, about a mile north of the pet alley. It seemed pretty cheerful in the sunshine that emerged after a brief, mellow rain.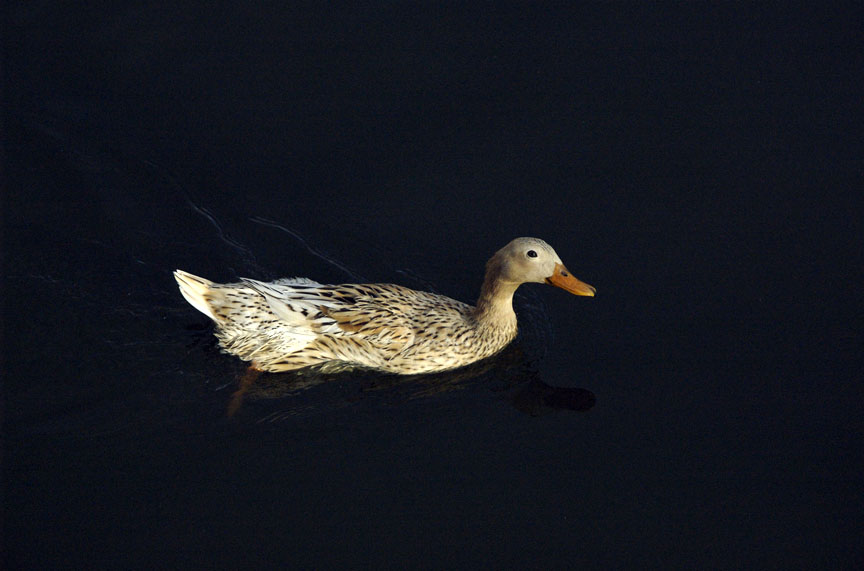 Six hours north, in Lijiang, I found this puppy already on the job, guarding some Naxi tchotchke shop. He has a serious countenance, but don't let that fool you—his butt still got all happy-wriggly when I cooed at him and scratched him between the ears.
I did not pet this cow, which was one of the first sites I encountered when I began to hike the trail through Tiger Leaping Gorge.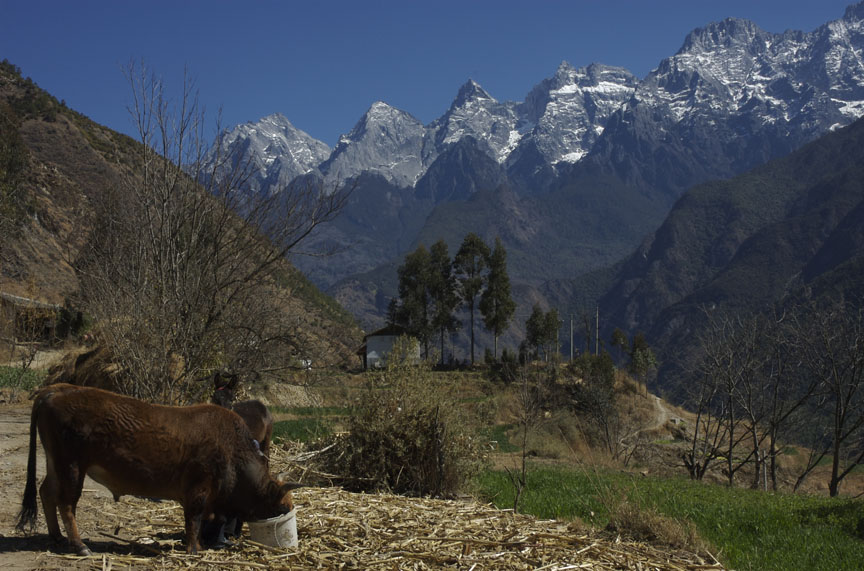 Nor did I snuggle these high-altitude bees hungry for nectar some 3,000 meters above sea level.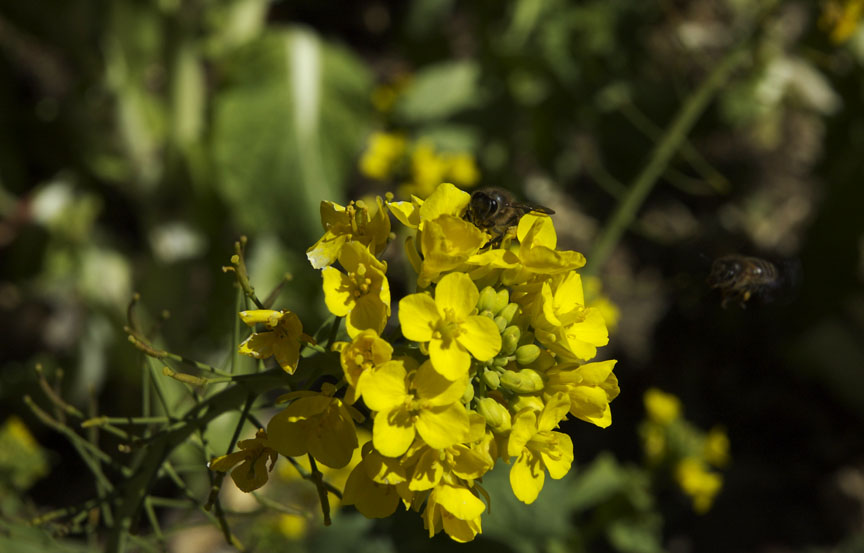 Ditto on the goats, which were walking the trail sans herder.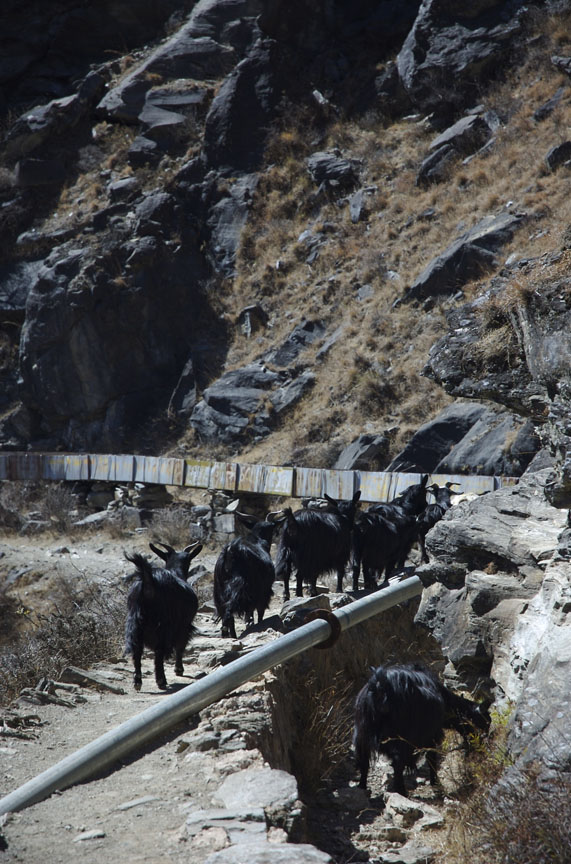 Be glad this is a distant shot. Goats are cute from the front. They have nubbly little horns and horizontal pupils like minus signs made with a thick black marker. But from the back, goats are appalling. Whatever horrors your imagination can conjure up about the rear of this creature, double it and then gag a little.
Along the first part of the trail, touts wait with mules for tired trekkers to give up the hike and get hauled to the top.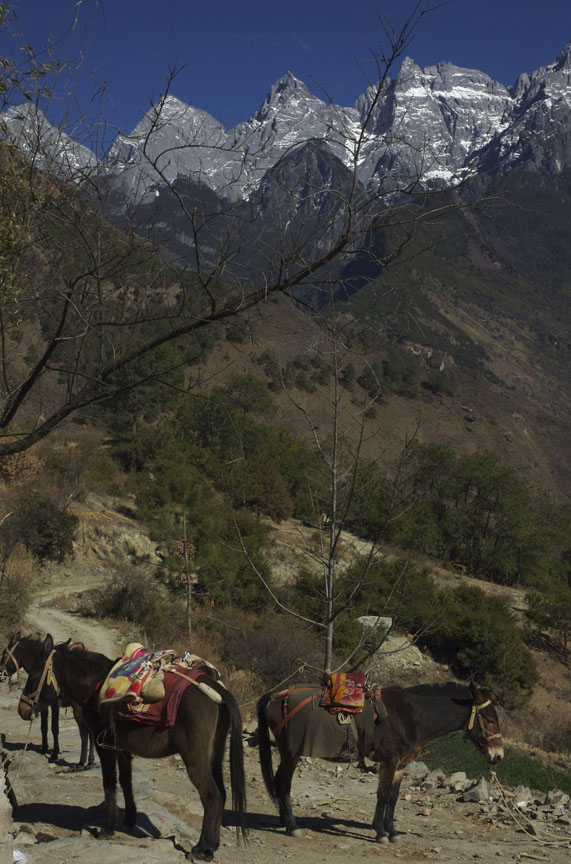 Few hikers take the ride. Maybe that's why this mule and his trio of chocolate-colored pals were, like the goats, walking the trail without any human tenders.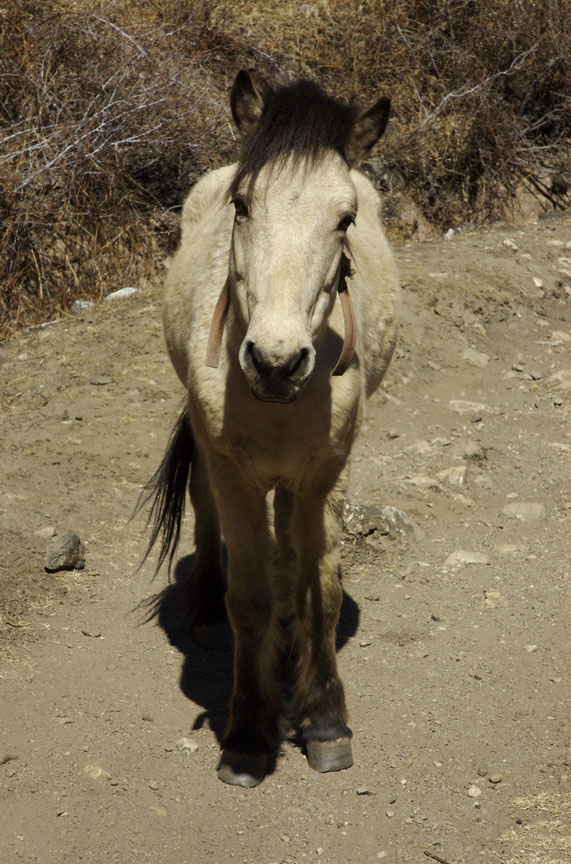 It was just them, the bells, and me. Here's what it sounded like when I tried to pass them:
More from Tiger Leaping Gorge soon.