Over the course of the day Katie left for New York, I would periodically calculate where she was in her flight. The first leg was from Bangkok to South Korea, the second to New York. Christ! I would think. She's still flying! And then I'd float on my back in the pool.
Perhaps around the time she landed, Amelie and I headed north to Chiang Mai. The goal: elephants.
There are several camps around Chiang Mai. For various logistical reasons, we headed to Maesa Elephant Camp. We drove there on our rented Honda motorbike. It cost about $8 for 24 hours, including bare-bones insurance (for the bike, not our skulls).
Speaking of the motorbikes: Amelie imposed a gag order that keeps me silent about The Potted Plant Incident, but when mum is no longer the word, I'll let you know.
At Maesa, we bought a bundle of bananas and another of sugar cane to bribe the beasts. They get their sugar fix by wielding these things.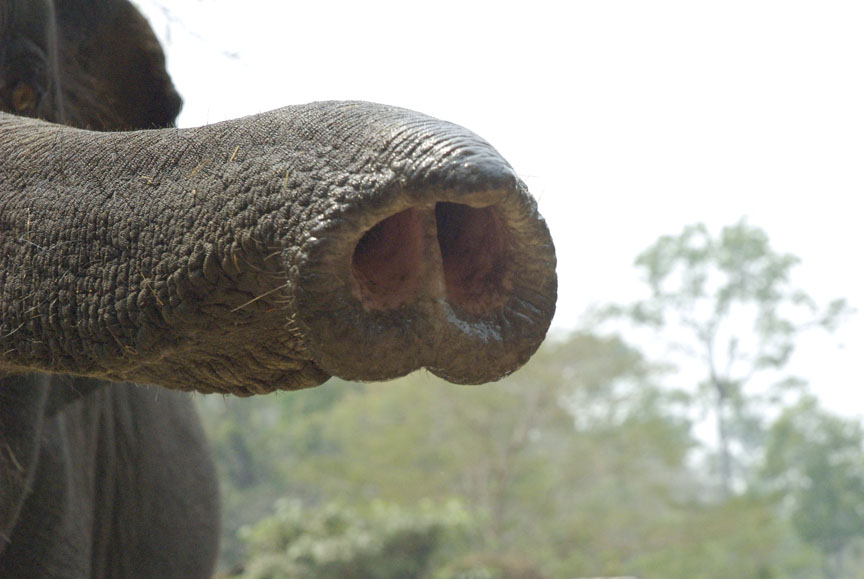 I wish I had one. They seem so, er, handy. Every once in a while you'd get thumped with a trunk or snorted on with what sounded like disdain.
Handy, I tell you.
The benefits of the bribe are interesting. For instance, if due to some disaster you are rendered incapable of placing a hat on your head, this baby elephant can be your Jeeves. (photo by Amelie)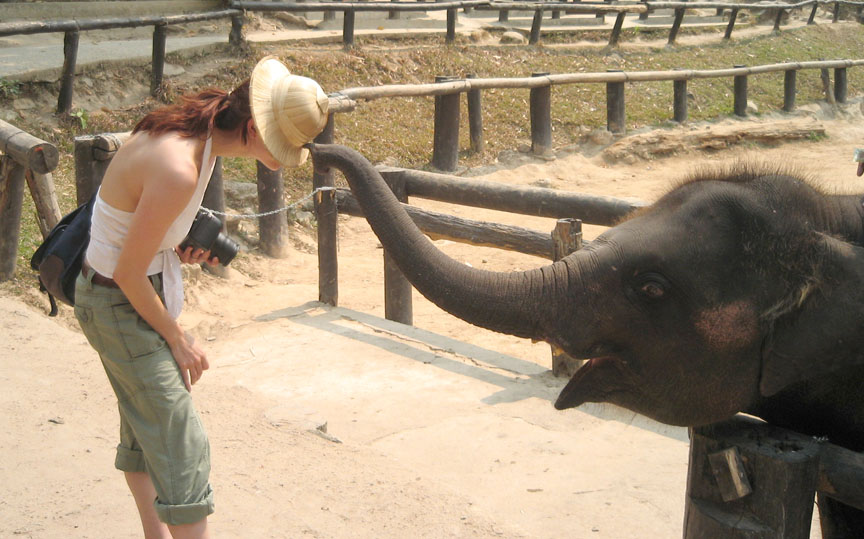 Have you ever been smacked on the back of the head by an elephant, a la Dad telling you to knock it off and stop acting like a smart ass?
Amelie has.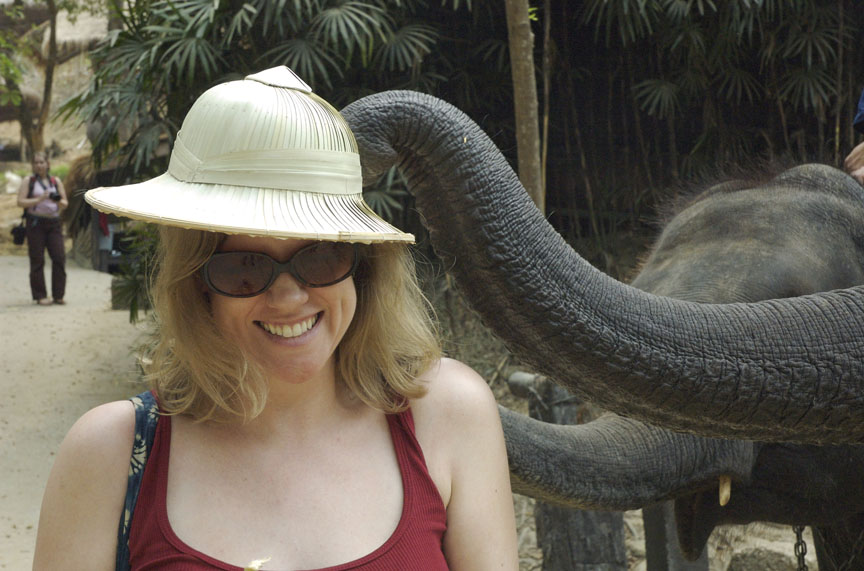 And then it was bath time.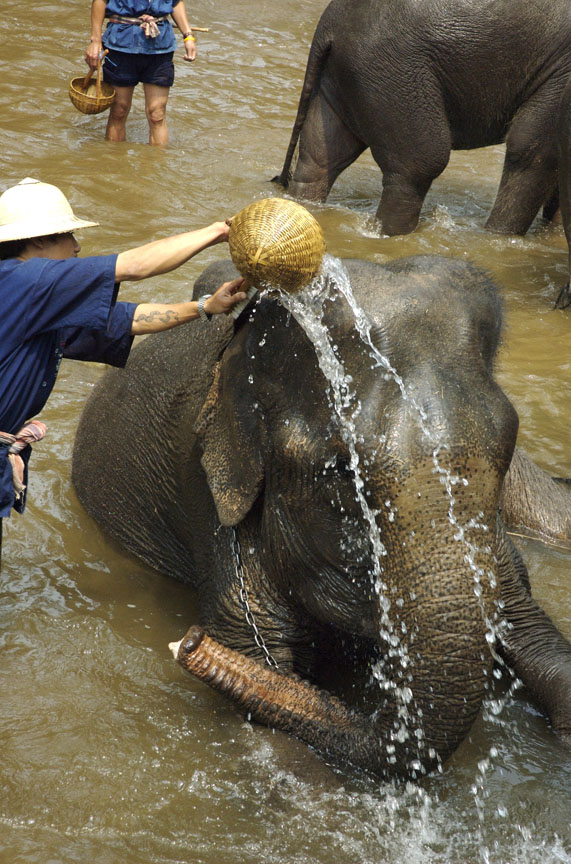 In the water, the elephants frolicked like enormous puppies. So exuberant and joyful.
I've never been so close to elephants before. They have more intelligence in their eyes than any other creature I've encountered besides gorillas and chimps.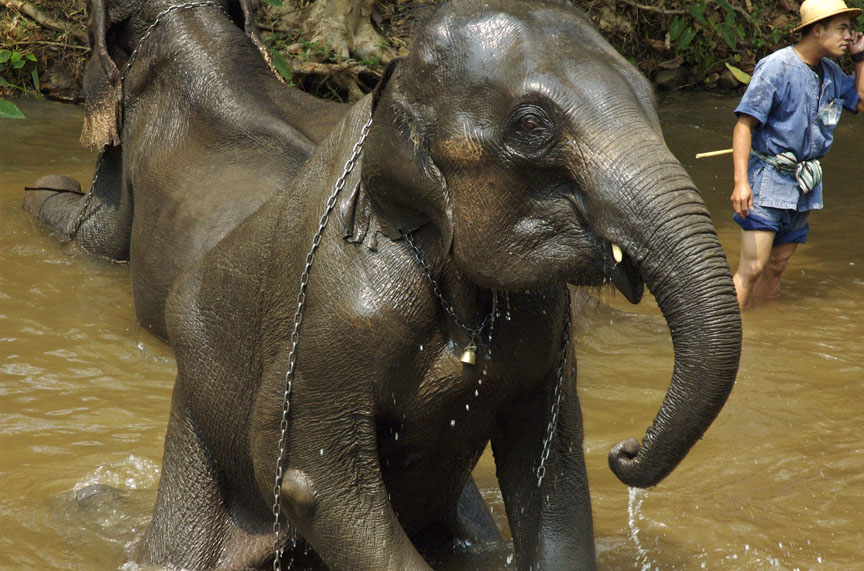 After the bath time came the show. This is where things got confusing. I felt ashamed for the elephants, for all of us, as they rocketed soccer balls at a netted goal and painted still lifes of flowers (though one did Jackson Pollack his canvas). Even the segment where they dragged wood logs – their former employment – was more sad than impressive.
The whole thing seemed so undignified. Isn't it enough to just watch them being elephants? That's pretty damned amazing on its own.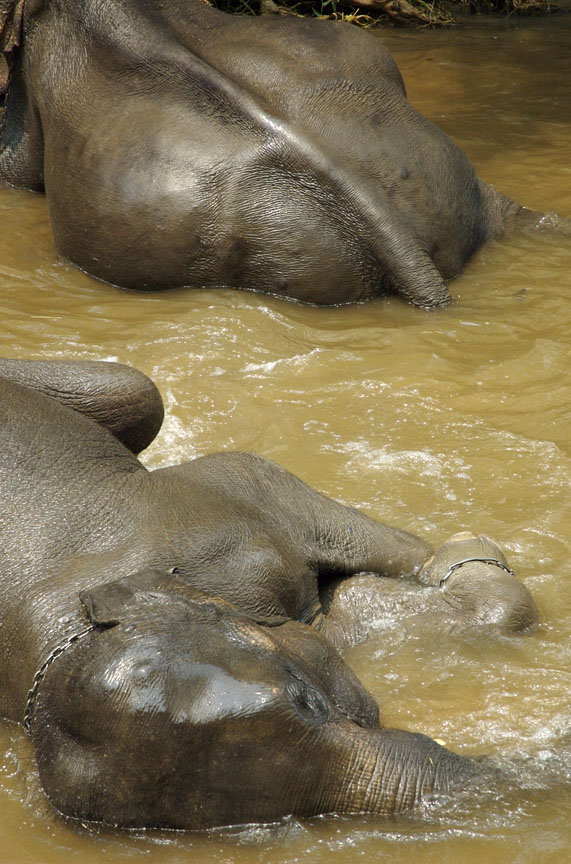 However, Maesa has a good number of juveniles and a few babies. Breeding in captivity is a good indication of health and happiness, right? But all those bananas and stalks of sugar cane – do the mahouts regulate how much they eat, or is it just all-day gorging?
Maesa also has the dubious distinction of having made it into the Guinness Book of World Records in one of the many extravagantly stupid and pointless categories that constitute the GBWR: "the most expensive painting by a group of elephants."
Do you know what I want? To be in the GBWR for the number of times I haven't tried to set a world record. Every moment of my life, every breath and step, I am not trying to break a world record. The number must be in the billions.
Merit-wise, that has to be on par with the world's largest slice of pepperoni pizza made with organic spelt flour by blind Dutch nuns and baked in a solar-powered oven.